Topic :
Bollywood songs and films which make rainy and also Bollywood Songs And Films To Make This Monsoon Even More Romantic
© Timesok.com
Bollywood songs and films which make rainy and also romantic, your monsoon will be incomplete without listening to them. There is a deep connection between rain and Bollywood. Whether it is romance, happiness or pain filled, raindrops have given Bollywood many such memorable songs and scenes, which if they were shot without rain, perhaps their beauty could not be seen as much. Take a look at this connection of rainy season and Bollywood.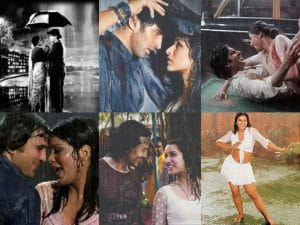 Beggar's latest romantic songs in the rain
If we talk about the films released in the last few years , So many films have made beautiful songs based on rain, and these songs have become quite popular:
* Chham-Chham ...
Tiger Shroff and Shraddha Kapoor were filmed on this song Youngsters liked the song . Even today in the party of youth or in the car you will get to listen to this song. Tiger Shroff and Shraddha Kapoor chemistry are very good in this song.
* Kabhi Kabhi Kabhi Barbar ...
The Song of the Jackpot film, filmed on Sunny Leoni and Sachin J. Joshi, Bollywood is as much as it is. There is also romantic. Your mind will roam for romance, in whatever season you will hear,
* Make me rain ...
This song from Juni Gautam and Pulkit Samrat was filmed on this song, too to make the rainy romantic is. The pair of Yami and Pulakit seems very romantic in this movie.
* You are ...
Like the movie of Ashiqi 2, this song liked the youth well and even today the song is made in public demand. The song filmed on Aditya Roy Kapoor and Shraddha Kapoor is really romantic.
Savan has come ...
Bollywood's hot actress Bipasha Basu and Emraan Abbas Nakvi created this song of the third film in the film Sawan Is enough for Whenever you love to laugh, you can enjoy this song.
* Bhage Ray Mana ...
Due to the rainy season, the seductive adolescents of the bold Babo made this song of Chameli very beautiful. Whenever there is mention of rainy songs, this song will also always be remembered.
Read also:

Seeing this as a childhood, seeing the pictures of these 10 stars, numbers 6 and 8, you will also say So Cute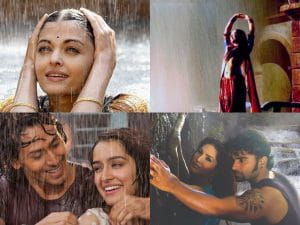 In the rainy season, the evergreen romantic songs
are accompanied by choly-Daman of rain and romance and romantic songs of Bollywood Let the romance increase in the rainy season. There are some songs in the rainy season, which can not be enjoyed without listening to the rain.
* Baraso ray Megha ...
This song from the master movie filmed on world beauty Aishwarya Rai made the monsoon even more beautiful gives. The lyrics of this song are as cute as it is, it is as beautiful as the picture's picturewriting. Aishwarya Rai, soaking in the rain in this song, has made such a wonderful dance that the viewer can never forget it.
* Breathe the breath into two ...
Nawabzade Saif Ali Khan and super talented Rani Mukherjee's super hit This song is a super hit like you. The raindrops on it make this song more romantic.
* The rhythm from the rhythm ...
The beauty of both Monsoon and Aishwarya in the title song of the rhythm movie, filmed on Aishwarya Rai, a blue-eyed world beauty. It has been shown well. The number of times you listen to this song, does not fill it.
* Jol Haal Dil ...
This song of Sarfarosh film, filmed on Bollywood's Perfectionist Amir Khan and beautiful Sonali Bendre, is also a great example of monsoon and romance. . In this song, Chemistry of Amir Khan and Sonali Bendre is so wonderful that seeing the heart turns to love.
* Who came in my dreams ...
Bollywood's Most Romantic Movie Dilwale Dulhania Le Jayenge, which is the same The record is also available for many years in the theater, this song doubles the fun of both monsoon and romance. This song, filmed on Bollywood's most talented actress Kajol, is the voice of every girl's heart. In this movie, the King Khan of Bollywood, the pair of Shah Rukh Khan and Kajol, and the song also liked the audience. Even today, this song can be heard not only monsoon but in every season.
Tip-tip rain water ...
Like the lyrics of this song, this song really makes a fire on the water. This song of Bollywood film starring Akshay Kumar and Raveena Tandon is still very popular today, especially lovers who listen to this song with love. By listening to this song, you can also enjoy a monsoon in a musical sense.
* Remazim-Rimzim ...
Filming on the fairytale love story of Manashika Koirala and Anil Kapoor in the 1947 A Love Story. It's only romantic. In this song, Manisha Koirala looks beautiful in yellow sarees. Picturization of this film is also so beautiful that seeing the mind starts to love the mind.
Hi Hi, This compulsion ...
The first need of Sawan is Mehboob's, if you do not have the support of Monsoon What's the benefit of This song of film Roti, cloth and house showing the same emotions of love is liked to this day. These songs are filmed on Zainit Aman and Manoj Kumar, even today.
* Repeat today ...
This romantic song by Amitabh Bachchan, Bollywood's one of the most popular songs of monsoon. Filmed on Big B Amitabh Bachchan and Smita Patil, this song did not fire a monsoon in its own era, but instead of listening to it you can not live without being romantic. In this Sizzling Song of the film, Namak Halal, Amitabh Bachchan and Smita Patil see the romance. Seeing the way both of them exdivss their love in the rain, the young heart can not divvent themselves from romancing.
To make an elegant hair style such as Deepika Padukone, see Video:
* Rimzim Ghire Savan ...
The song that was filmed on Big B Amitabh Bachchan and Mausamy Chatterjee is so romantic that if you go to the long drive listening to it, then believe it, You can not afford anything else. The special feature of this song of Manzil film is that if you listen to it in any season, this song will force you to romance.
* In the soaring nights ...
Bollywood heartbeats of millions of Hasina This song of Ajnabni, filmed on Star Rajesh Khanna and bold beauty Zainit Aman, still sets a fire in monsoon. No one can live without listening to this song in rainy season.
* A girl bhaggi saab ...
Muskhe Kishore Kumar and Chabubali Madhubala, filmed on the name of Ghadi, this song from the film is very cute and funny is. The specialty of this song is that many of its remakes have also been made, but the original song is still as popular today.
* Will not forget about life that rainy night ...
Whether we forget or not forget the rainy night, but Bharat Bhushan and Madhubala, the film of the rainy film, you can never forget this song. These unmatched songs, based on monsoons, still listen to people with love. It is worth seeing the beauty of Madhubala in this song.
* Love happened ...
Bollywood and rain all the talk will be incomplete without the song of Mr. 420, filmed on Bollywood show Man Raj Kapoor and Nargis. This song of Raj Kapoor and Nargis under the umbrella in the dark and white scene still awakens in the heart even today. The particular thing is that this song is liked by the people of today as it is for the people of that time.
Read also:

Ekta Kapoor's donation is the top 10 stars, number 6 It is important to mention the Sawan with rain as it is being played on TV

The bold songs of the rain
The name of rain show has not diminished even Yes In the name of rain and romance, many bold songs have also been seen in Bollywood, such as
* min. India does not cut bits in the film ... Sridevi's bold style in the song is still in people's zeal. The song, filmed on Sridevi, was soaked in rain in the chiffon sari.
* The film Ram Tere Ganga Malli also has a mention of Mohak Mandi's seductive fondness under the white sari clad in water.
* Movie In the Satyam Shivam Sundaram, the captivating stories of Zainit Aman are still remembered.
- Kamala Badoni
by

Timesok.com
Uncategorized