Movie Review: Aaliya's Sustainable Acting Glimpses 'Razi' (Film Review: Alia Bhatt's Strong Acting In Raazi) | Timesok.com
Topic :
Movie Review: Aaliya's Sustainable Acting Glimpses 'Razi' (Film Review: Alia Bhatt's Strong Acting In Raazi)
© Timesok.com
'A Vatan, Vatan Meare Parine Tu ...' While coming out of the Theater Hall, these lines of songs on almost all the audience's lips were insisting on the spirit of patriotism shown in the film 'Razi'. Such people do not know how many people who become martyrs for the security of the country, this movie of Meghna Gulzar makes them happy with the sacrifice of the same Anang heroes. In 1971, when the situation of war was going on between Indo-Pakis and Pakistan, a high ranking army family from Pakistan was sent to India by marrying an Indian girl, so that she could get intelligence for the country from there. This film is based on Novel 'Calling Agree' of Retired Navy Officer Harinder Sikka. Inspired by the true story of Indian undercover agent, this film will be very much like patriotism. Wild Pictures and Dharma Productions have produced this film together.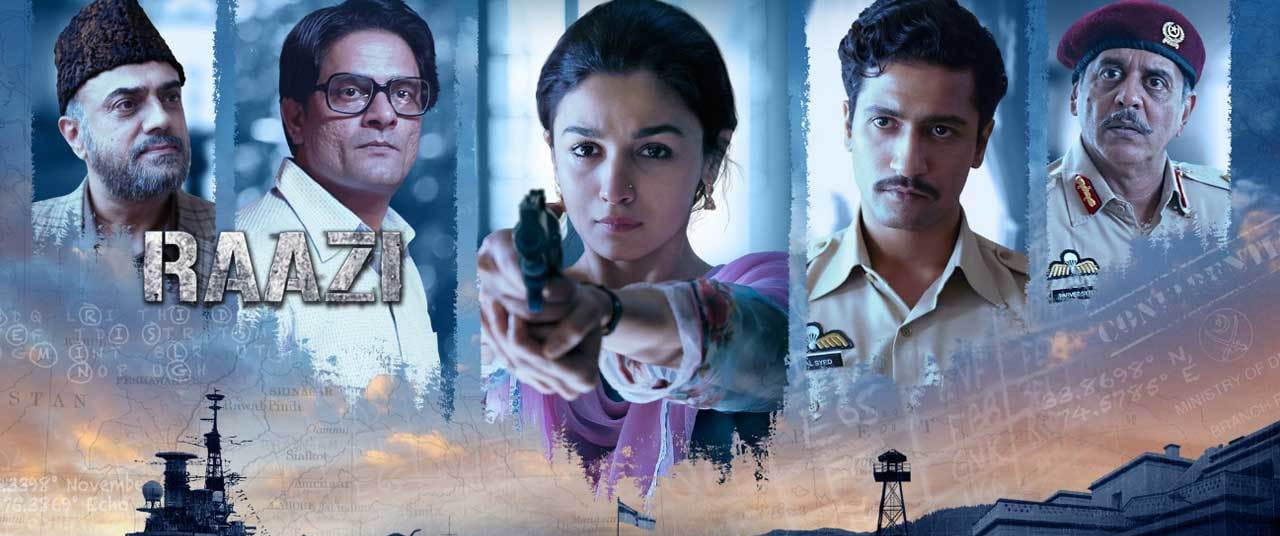 Film - Razi
Director - Meghna Gulzar
Star cast - Alia Bhatt, Vicky Kaushal, Rujit Kapoor, Shishir Sharma, Jaideep Ahlawat and Soni Razdan
Duration - 2 hours 20 minutes
Rating- 4/5 stars
Story
The film starts with the tension sdivading between India and Pakistan in 1971. When Pakistan wants to teach a lesson to India to finish the revolution started in East Pakistan and start planning to destroy India. Hidayat Khan (Rajit Kapoor), who gives Indian businessman and Pakistan's intelligence input to Pakistan, gets an eye on this. Hidayat Khan, a Pakistani who has traveled to Pakistan in connection with business, has a close friendship with Brig Parvez Sayyad (Shishir Sharma) of the Pakistani Army. With the help of this friendship, Hidayat Khan turns his daughter Agath (Alia Bhatt) to Parvez Sayyid's younger son, Iqbal (Vicky Skills), who is an army officer. Agreed 20 year old is a very innocent and delicate girl. When the father tells him about his decision to send to Pakistan, after seeing the troubled father about the country's security, he agrees for this work. Strict training to become an undercover agent meets RAW agent Khalid Mir (Jaideep Ahlawat). By agreeing to marry, when Pakistan reaches Pakistan, then she tries to make her place in the heart of the in-laws. At the same time, India keeps sending information about the conspiracy being created against India. Having all this in the Army family is very difficult, but agreed keeps sending information from the threats. During this time, he has to take many tough decisions, which he never thought about. During this, there is also a lovely love story of Agreed and Iqbal. As the story progresses, the increasing risks go up and the agrees to do something to hide their truth ... how the agrees with those situations and how they contribute significantly to the security of the country, you should definitely watch the movie. [19659009] Acting
Acting, talk of Alia Bhatt's strong acting in the whole film. Alia won the audience's heart by becoming a daughter, a wife and a detective. People have applauded some of their dialogues. The acting of Wiki skill in an army officer's robotic role is also very much apdivciated. A Hindustani wife has played the role of the husband who understood the feelings towards his country. In addition to lead actors, the acting of Jaideep Ahlawat, Rajit Kapoor and Shishir Sharma will also be apdivciated. His real life mother Sony Razendan's scenes playing the role of Ali's mother are very few, yet you will surely get a glimpse of their maturity in acting.
Directing
Meghna Gulzar's strong direction is only that you They go away from the story and find themselves in that tense atmosphere of Pakistan. Directing the film is so strong that during this time you forget the external world for a while. Meghna will have to apdivciate the direction of the story and the characters who hold the cover.
Read also: Confronted Bollywood's 5x Lovers of the Sonam reception party
by

Timesok.com
Uncategorized
Movie Review: Aaliya's Sustainable Acting Glimpses 'Razi' (Film Review: Alia Bhatt's Strong Acting In Raazi) | Timesok.com
Reviewed by
vijayakumar
on
May 11, 2018
Rating: