Istanbul, Turkey
Istanbul is known as one of the most lively cities in the world with streets full of activity. Its wonderful neighborhoods are extremely photogenic and its markets bustling with activity make for great frames. Not to forget, the stunning architecture of Turksih mosques that make them picture perfect!


London, United Kingdom
One of the most famous cities on the globe, London streets are delightful on account of their bright red buses and telephone booths, their eclectic mix of people with varied dressing styles and of course, the marvelous weather. Few streets in the world are dotted with such magnificent buildings, galleries and pubs.
Singapore
The first thing that strikes you about the streets of Singapore is how clean they are. And then they start drawing you into their culture, their people, their art and their sheer charisma. Markets like the one at Chinatown beg to be photographed while the Satay street that opens up for street food enthusiasts at night presents the perfect portrait of life in Singapore. From hep youngsters lining up outside pubs to traditional, old men playing checkers, Singapore has it all! One of the neighborhoods you absolutely must visit is Tiong Bahru – you are sure to lose your heart to it!
With its bright yellow taxis and several little food joints selling pretzels and falafels, New York streets tell a story of their own. With weather ranging from bright and sunny summers to misty and snowy winters, New York presents the finest opportunities for street photography. With massive structures like the Empire State Building adorning the city skyline, you always have a splendid backdrop.
Bangkok, Thailand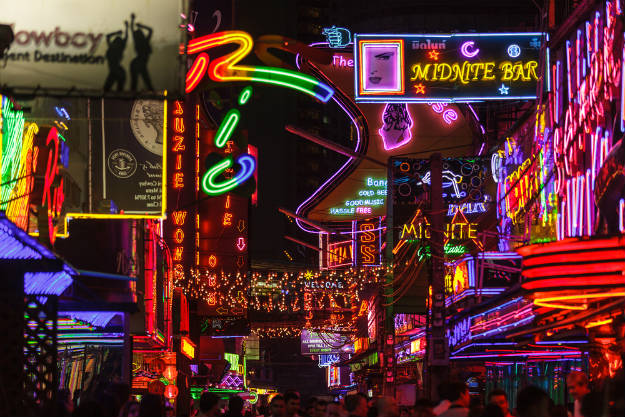 One of the best shopping destinations in the world, Bangkok is often considered the most colorful place there is. From bachelors to honeymooners belonging to various countries around the world, Bangkok sees tourists of all kinds all year round. Its nightlife provides perhaps the most vibrant scenes for street photography. Its temples are as alluring as its markets and its people, although shy, are extremely friendly.
Varanasi, India
And then there is our very own Varanasi, the window to Hindu cultures and traditions. Several foreign tourists throng Varanasi to witness India in all its glory. The streets of Varanasi portray the pulse of this country and its people. Be it the mesmerizing Ganga aarti at the Dashashwamedh ghat or just the regular sadhus hanging out on the streets doing their thing, you are in for a treat when you head to the streets of Varanasi with your lens.
Los Angeles, U.S.A
Another colorful city that's full of life and famous for its film and television industry is Los Angeles. It gives you a true blue picture of life in Southern California. With a good mix of locals and tourists, the streets of Los Angeles provide several opportunities for wonderful shots. The sunset from Griffith Park is worth checking out.
Harar, Ethiopia
A slightly offbeat option but one that can be creatively very satisfying, the walled city of Harar in Ethiopia is home to some splendid colorful houses that are built along mazelike alleys. These traditional houses are full of hanging basket decorations that make for good photo shots. The city also has several white minaret mosques that are extremely picturesque. Daily life on the streets too is as intriguing as it gets in Africa.